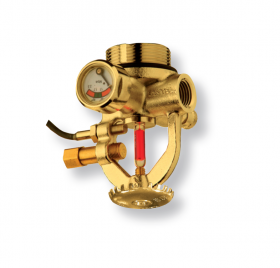 *** l' immagine è pubblicata puramente a scopo illustrativo. il prodotto rappresentato è progettato e distribuito in esclusiva per il cliente che ne detiene tutti i diritti di vendita.
*** The image is only for illistrative purpose. The product shown is designed and distributed for customer who has all property sale rights
CONVENTIONAL type Sprinkler Heads with spherical distribution
CONVENTIONAL type Sprinkler Heads with spherical distribution
For automatic fire extinguishers. Special type with pyrotechnic cartridge immediate breaking of glass bulb by electric consent applied to a system of survey and inductive detector of presence survey - Degree of protection IP67 - Minimum working current 0,28 A - Normal working current 1A - Control current 0,01 A - Resistance 2,15 ± 0,3 Ohm.
Specifications
The pyrotecnic cartridge and the proximity are provided and quoted separately.
| Type | Connection | Outlet | Disc Calibration-tube connection | Connection | response temperature |
| --- | --- | --- | --- | --- | --- |
| 63.2.190.0120 | M.30x1.5 | ø 3mm | M.10x1 | Pressure switch G.1/4", Pyrotecnic cartridge M8x0,75 | 57 °C=135 °F |